The health and well-being of our staff and campers is our number one priority, and due to the COVID-19 pandemic we are unable to offer physical summer camp this summer. We want all of our families to know we are thinking of them and hoping they are safe and healthy. We will be doing what we can to prepare for Summer 2022 and provide even more life changing opportunities for our campers. Have a safe and healthy summer.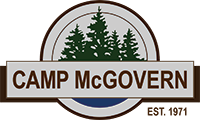 Foster self-esteem, social skills, and respect for others.
Uncover potential for personal growth in campers and staff.
Nurture mentoring, teamwork, and leadership development.
Subscribe to get general updates about Camp McGovern, our events, how to get involved, and how you can support our work.