Get ready for fun! Camp is returning for summer 2023!
Welcome to our new Executive Director at Camp McGovern Trudi! Trudi is excited to become a part of the Camp McGovern community. Trudi comes to us with over 10 years experience in camping and experience supporting peoples mental health. Trudi's favourite things are spending time outside and hanging our with her dog Charlie!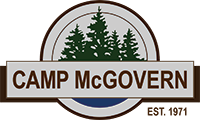 Foster self-esteem, social skills, and respect for others.
Uncover potential for personal growth in campers and staff.
Nurture mentoring, teamwork, and leadership development.
Subscribe to get general updates about Camp McGovern, our events, how to get involved, and how you can support our work.